What's the Future of Your Business in an Internet and Social Media World?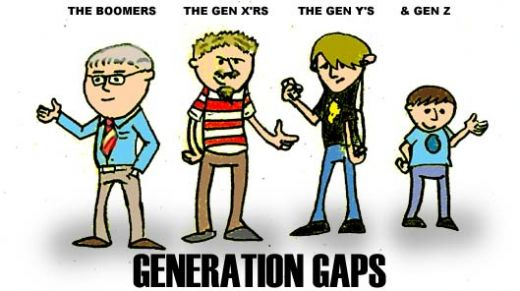 How does it affect you personally? Professionally?
How do you stay relevant and competitive?
How do you market to six generations, all with different needs?
Generational lines are blurring and a new era of the connected consumer – Generation C – is at hand. All generations now are embracing technology, some adopting it faster than others. Technology and Social Media are synonymous with Gen C.
The connected customer is the stranger you need to get to know, this group is only growing and mobile devices are the #1 choice.
Six Generations
Silent Generation | 1925- 1945
Young Boomers | 1956 – 1964  | Combined for both boomers is approximately 76 Million
Older Boomers | 1946 – 1955
Gen X | 1965 – 1979 | Approximately 41 Million
Gen Y | 1980 – 2000 also known as Millennials | Approximately 71 Million
Gen Z | 2000/2001 – Present | Approximately 23 Million
Gen C – People connected through technology
Things are not what they used to be. Disruptive technology, smartphones, tablets, and the internet are upsetting the status quo. No longer is traditional marketing having the same affect on your brand. Social Media Marketing is a change in the way you and your brand conduct business. Falling further behind this change and your competition is not an option.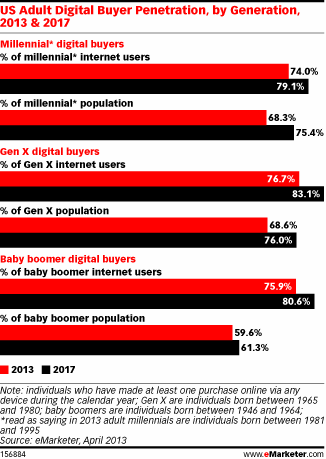 Silent Generation – Communicating to Them
Distinction and honor are key marketing factors.
Promote convenience and accessibility along with a "you earned it" attitude.
They prefer formal communication, both written and oral, and value formal dress.
Trust can be built with this group using inclusive language such as "we" and "us."
Motivational messages should feature respect, such as: "Your experience is respected here."
The 1940's were intensely romantic and as such romance such as candlelight dinners and soft music strikes a cord.
Respect this generation because they overcame daunting odds to achieve success giving them "permission" to spend money!!!
Boomers – Communicating to Them
They believe they have a right "to do their own thing," and seek purpose and fulfillment in their lives.
Marketing approaches to this group should cater to their need to rebel and forge their own path.
Perfect programs for this group would be those requiring little change in habits and that would also produce improvement instantly. Quick Fixes!
They tend to seek the advice of someone who already has the knowledge they need.
Want one unbelievable experience after another.
Never refer to them as Seniors!!!
If they can't obtain the American Dream they will rent it.
The Best Way to Market to Boomers
Touch their heart and they will allow you to enter their mind.
Emotional triggers in the brain activate memories and the stronger the memory – the stronger the emotional response
Create emotion through the use of narrative styled presentations of information.
Shift to "hard" or objective information when most advantageous, but don't give so much information that they get overloaded.
Also works on the silent generation, but not Gen X & Y.
Gen X – Communicating to Them
Value access to information and value it above all else.
Share with them information of interest immediately and often.
They are used to a lot of stimuli and require a challenging environment, individual growth and developments.
Your website represents yourself to them.
They do not like to feel as if they are being manipulated.
They genuinely value opportunities to learn, grow, and improve themselves.
Xers' completely integrate the internet into their day to day lives.
The Best Way to Market To Gen X
Approaches that produce the best results will be frank and involve fun at the same time.
Xers' are reactive, yet introverted, while being quite social with their own generation.
Use statements such as "There are not a lot of rules here," or "Do it your way."
So, if your brand needs to target 18- to 35-year-old males and females (which includes most of us), what do we need to keep in mind? Disruptive technology like Social Media permeates the lives of Gen Y, and until companies better understand its impact on all customers and prospects, it will be at the detriment of that business.
Gen Y – Communicating to Them
Gen Y's most preferred way to communicate is through texts. The next preferred method is email.
Email behavior shows they only read the subject line.
To Gen Y, phone calls are an invasion of privacy.
Gen Y is desperately lacking face-to-face conversations.
Gen Y connects most with the oldest generation, traditionalists.
Gen Y connects least with Generation X.
They will only buy that which appeals to their entire tribe.
Admire their parents but trust their grandparents even more.
Wild visual communication will motivate them.
Gen Yers' respond to humor, irony, and unvarnished truth.
They appreciate when you seek their feedback.
They buy that which celebrities buy both traditional as well as internet celebrities.
Word-of-mouth advertising, Interactive Web Sites and Tribal Online Meeting places are the place to advertise.
Many corporations are directly marketing to the leaders of tribes in high schools and colleges with exclusive deals.
Make your products cool for kids as well as their parents and grandparents.
Exploit contests and promotions.
You must be present at local tribal meeting places.
89% of teens would likely switch brands to one associated with a good cause.
They buy cheap cost, good quality, fast service and an experience.
The Best Way to Market To Gen Y
Provide stories in visual form. Gen Y's are completely visual learners, so videos, infographics and pictures in your storytelling are a must.
Since Gen Y connects with traditionalists, it may make sense to include traditionalist content creators in your planning?
Invest in the best resources for email subject-line writing.
Calls to action should never include a phone number or having to call someone (real friends text, they don't call).
Provide opportunities for Gen Y'ers to meet face to face in comfortable situations.
Gen Z tend to be indiscriminate with their media choices and are more likely than other generations to embrace and trust online communications such as social and mobile media. According to Forrester research.
Gen Z – Communicating to Them
Smartphones, Mobile, Tablets.
Are realistic.
Recognize that they multitask.
They'll be diligent researchers, always considering what's a good investment.
Rather than hide from their problems, they want to understand and confront them.
Will be wary with their money.
The Best Way to Market To Gen Z
Will be looking for products and messaging that reflect their reality, rather than that which depicts a perfect life.
More serious storylines and documentaries that highlight complex situations will appeal to them.
Their role models are young, everyday characters like The Hunger Games' Katniss Everdeen, who face seemingly inescapable scenarios but rise above them to create a better society.
In these stories, relatable characters are empowered to defeat their circumstances—just like Zs, who feel a responsibility to change the status quo.
They would rather save money than spend it immediately.
They'll strongly consider whether college is worth the cost.
They'll find the best deals and will expect to test out products physically or virtually before they buy.
Will want brands to show their long-term value and make them feel safe.
Instilling confidence in this generation can help brands gain loyal fans for life.
Boomers Biggest Online Spenders
Gen Y Owns Most Connected Devices
Gen Y adults are the most likely to pioneer the use of newer devices, leading all generations in the adoption of tablets, internet-connected TVs, 3D TVs, and Blu-ray Disc players. They are also the most likely to own a smartphone (58%), ahead of Gen X (49%) and Gen Z (47%) adults.
GEN C
Generation C is the connected consumer. Generation C is anyone who places increasing emphasis on technology as part of their daily routine. In many ways, their behavior mimics that of Millennials, and as a result, they prove elusive or immune to traditional marketing and service.
In the past 10 years U.S. Internet access doubled from 132.2 million to 274 million. Smartphones dominated and laptops surpassed desktops for the first time.